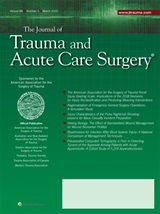 This study published February, 2020 in the Journal of Trauma and Acute Care Surgery contributed to the substantial and growing body of research dedicated to the question, does simulation work? Can we show improved patient outcomes as a result of experiential education facilitated by the facsimile creation of life like rehearsal?
Unequivocally the answer is, yes.
The evidence base for this conclusion is neither small or narrow in its focus. Take for example this study which is assessing whether trauma teams who participate in regular high fidelity simulations show an improvement in the time it takes to establish a chest tube in a trauma patient.
"Median pretraining time for resuscitative thoracotomy was 14 minutes (IQR, 8–32 minutes); posttraining median time was 3 minutes (IQR, 2.7–8 minutes,p= 0.02)"
Read that again...
Before simulation based learning, median time to place a chest tube = 14 minutes
After simulation based learning, median time to place a chest tube = 3 minutes
The delta of this is 11 minutes.
Blood and air filling your chest cavity, placing pressure on your vena-cava likely resulting in its collapse leading to PEA cardiac arrest and the dreaded trauma arrest death spiral. An eleven minute reduction in the time to facilitate the evacuation of the blood and or air may very well be the difference between life and death. This just one of many studies that strongly correlate the integration of serial simulation into clinical practice resulting in improved care and better patient outcomes.
We compile studies to support the impact of simulation based education in healthcare. We have identified that simulation can be reliably attributed to;
Simulation works!
Park, C., Grant, J., Dumas, R. P., Dultz, L., Shoultz, T. H., Scott, D. J., … Cripps, M. W. (2020). Does simulation work? Monthly trauma simulation and procedural training are associated with decreased time to intervention. Journal of Trauma and Acute Care Surgery, 88(2), 242–248. doi: 10.1097/ta.0000000000002561