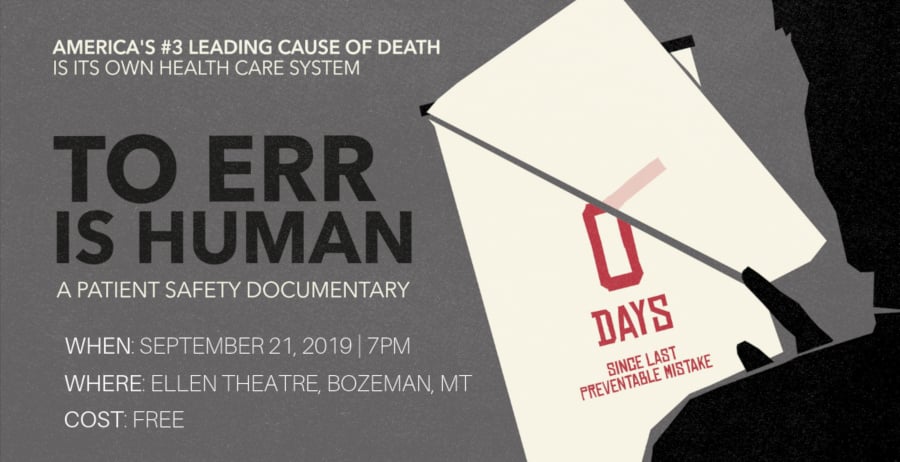 Have you ever watched a film so impactful that you wanted all your friends, family, and colleagues to see it? Recently we encountered just such a film: To Err is Human - A Patient Safety Documentary. It's such a big deal, in fact, that we're screening the film for free (with a special Q&A panel with Montana medical experts right after) and inviting all who can make it to attend.
"For anyone working in the medical field as a provider, administrator, educator, or healer--or even if you've been a witness to or affected by medical mistakes--this is an event you'll want to attend."
Do you know what the third leading cause of death is in the US? It's not diabetes, stroke, or even Alzheimer's. It's medical errors. Read that again. Medical errors. Medical mistakes lead to as many as 440,000 preventable deaths every year. That's the equivalent of 7-8 jumbo jets crashing every day with no survivors. With good reason, many medical experts are declaring this a public health emergency.
Join us Saturday, September 21, 2019 at 7PM at the Ellen Theatre in downtown Bozeman.
This is an event you don't want to miss out on. (Watch the trailer below). RSVP Here!
The most important medical film screening and panel discussion event in Montana this year
As stated earlier, the film "To Err is Human" is so important to share and discuss that we decided to host a symposium around it. It will be held at the Ellen Theatre in downtown Bozeman this September 21st free of charge and open to all until the Ellen fills to capacity. The film starts at 7PM but we encourage you to arrive early. There will be key local medical educators and providers to meet with and also the opportunity to tour one of Simulation in Motion Montana's state-of-the-art mobile medical simulation labs.
"We invest tens of billions to find cures for disease, but barely a fraction of that to find cures for this killer. This important documentary conveys just how big a mistake that is. It also shows how we can do better." - Atul Gawande, Surgeon, Writer, Public Health Researcher

Just as important as the film screening will be the Q&A panel discussion right after the film. Featuring medical leaders and experts from all over Montana, the panel will discuss the film, explore medical errors, challenges, and improvements in Gallatin County and Montana as a whole, and answer your questions and concerns around these issues. The moderator for the panel discussion will be Jaime Duke, MSN, RN, Interim Dean of the College of Health Sciences at Montana State University-Northern. And our panel is:
Ben King, NRP, FP-C | CEO & Co-founder of Best Practice Medicine
Hope Evans, BSN, RN | Clinical Educator and ICU Nurse at Community Medical Center in Missoula
Kris Kaull, NRP, FP-C |Chief Marketing Officer of Pulsara & Co-founder of EMS1.com and Paramedic.com
Shari Graham, NRP | EMSTS Systems Manager for MT DPHHS
Zach Sturges, MD | Board Certified Emergency Department Physician at Bozeman Health and Stimulation Medical Director for Best Practice Medicine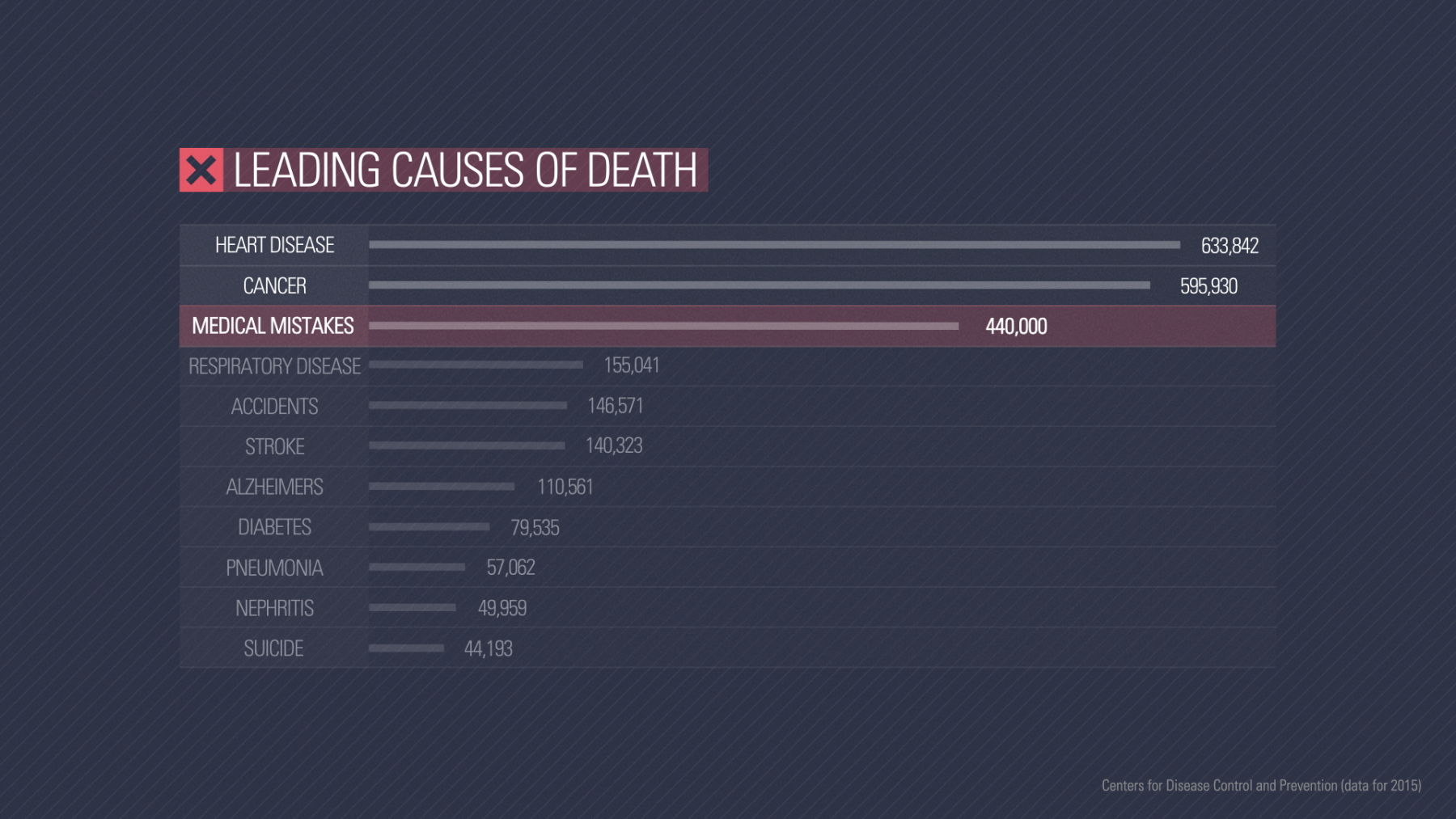 [The film is] "on the cutting edge for making changes in our healthcare system." - Donna Shalala, Former Secretary of Health and Human Services

"To Err is Human, but our patients deserve better from the health care system. The message is gripping and the stories beautifully told. Watch and you will be compelled to act." - Risa Lavizzo-Mourey, President Emerita of Robert Wood Johnson Foundation

Film Details: Medical mistakes lead to as many as 440,000 preventable deaths every year, making it the #3 leading cause of death in the United States. Directed by the son of late patient safety pioneer, Dr. John M. Eisenberg, To Err Is Human is an in-depth documentary about this silent epidemic and those working behind the scenes to create a new age of patient safety. Through interviews with leaders in healthcare, footage of real-world efforts leading to safer care, and one family's compelling journey from tragedy to triumph, the film provides a unique look at our health care system's ongoing fight against preventable harm.

Next Steps
1. RSVP Here!
2. Share this with your friends, family and colleagues (use the social icons at the top of this post to share on social media!).
3. Please mark your calendars for Sept. 21, 2019 at 7PM at the Ellen Theatre in downtown Bozeman, MT to attend this important event!
For additional details please visit the film event page or contact us.
We look forward to seeing you there!