Active shooter events and other mass casualty incidents, particularly ones involving an active threat, have been a steadily growing occurrence in the 21st century. In the past week alone we saw 7 active shooter events in 7 days across the USA. These events bring many cross-discipline providers from Law Enforcement, EMS, and Fire Departments together to effectively respond the the event. The hurdle in preparation for these events is that these providers seldom train together in these environments. System-wide procedures and protocols are only as effective as they have been practiced and implemented. Enter: Tactical Emergency Casualty Care Rural Environments (TECCRE)
In rural environments, manpower is one of the main limiting factors in how we respond to any incident — this is especially true for high threat scenarios. Tactical Emergency Casualty Care Rural Environments (TECCRE) goes beyond just the basics of how to apply tourniquets or chest seals and focuses on improving multi-agency response to high-threat, multi-casualty incidents. TECCRE was born out of the unfortunate reality that across the country we have seen an increasing frequency firearms-related mass casualty incidents. Emergency response systems nationwide are adapting their training to better respond to these unique environments.
TECCRE systemizes your cross-discipline response tactics and our instructors work with your agencies to update or modify protocols and procedures that work for you. From classroom-based activities and lectures to full blown simulated events, the course of this curriculum will take your system through this fully integrated approach. Live training with the very same responders and resources available to you in times of high-consequence encounters are a vital pillar of the way we train.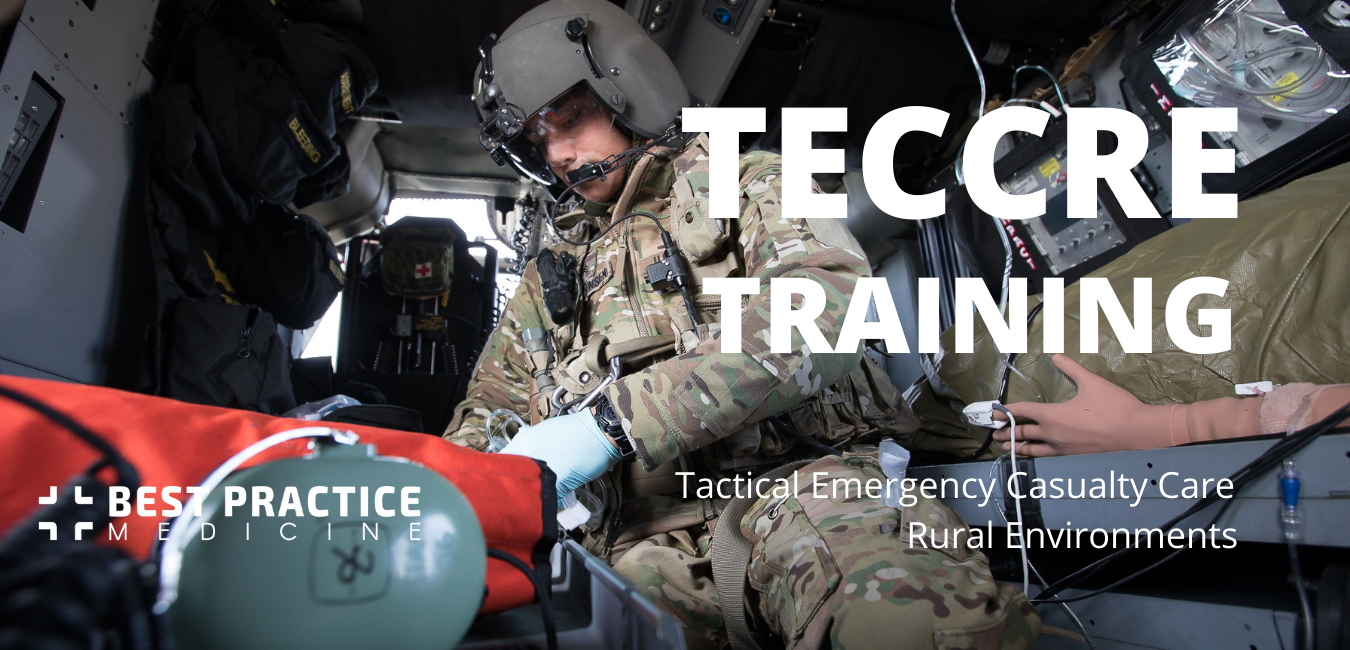 The TECCRE program is built with an understanding of the scarce EMS and LE manpower and resources available in frontier settings. It includes an emphasis on volunteer EMS/Fire personnel who are a vital component in rural emergency response. We provide thought-provoking, realistic simulation training aimed toward the systematic coordination of Fire, EMS and Law Enforcement. Through our training, we generate a solid foundation from which to grow effective tactical response models for each specific community based on their individual resources and abilities.
Why TECCRE?
Nations only interdisciplinary cross-training program designed for live threat events in rural areas.
Focus on integration of the Rescue Task Force concept.
Law Enforcement Officer (LEO), Fire, EMS, and Emergency Operations Command (EOC) cooperative training.
Emphasis on hands-on, simulation based learning with life like, integrated exercises.
We work with clients advise on best practices and procedures for your resources and environment.
TECCRE brings a seamless and integrated approach of cross-discipline training between Law Enforcement, EMS, and Fire agencies. The concepts TECCRE brings can inform valuable policy and procedural updates at the system level to accomplish our singular mission: guaranteeing the health and safety of clinical teams and their patients.
Want TECCRE where you live? Give us a call today!