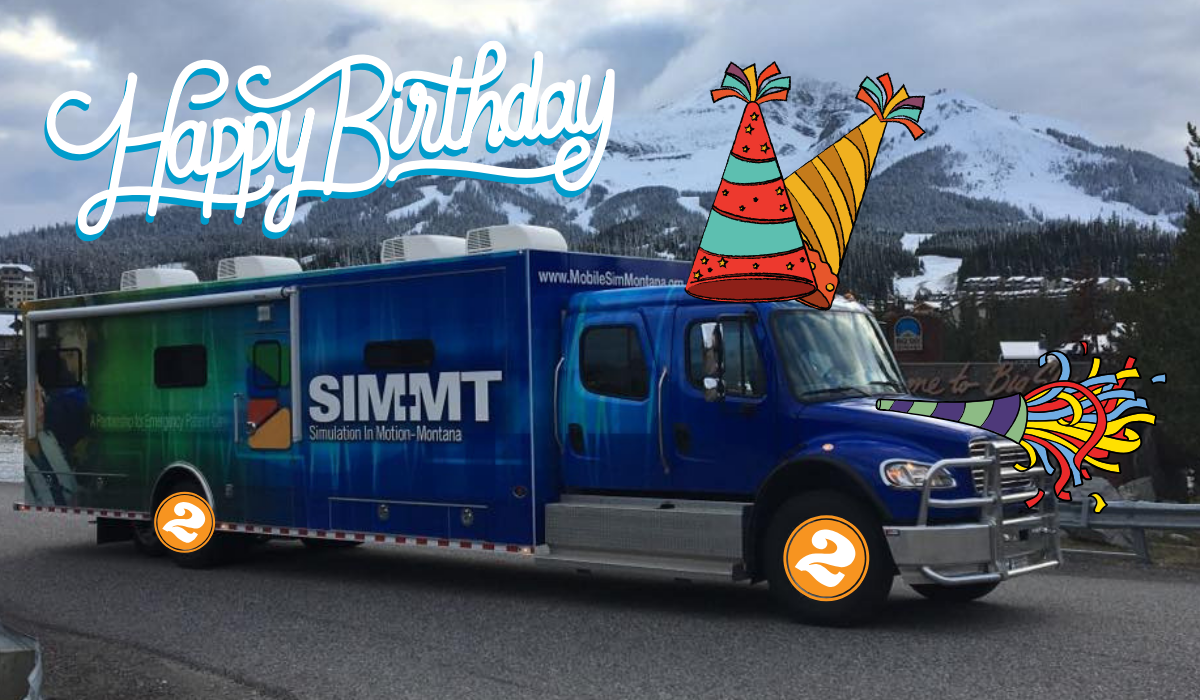 By the time a child turns two years old, the experts say they should be able to do all kinds of fun things like stand on tiptoes, throw a ball, and begin to show more independence. Our own "baby", the Simulation in Motion Montana (SIM-MT) program, turns 2 years old this month and we are thrilled to report that we have three healthy, thriving little mobile sim labs on our hands. They're throwing balls, standing on tiptoes, and traveling all over Montana changing lives like they were born for it. It seems like just yesterday when the little labs were a twinkle in the eye of all those who brought her into the world. Now, in just a short time, we've hit some incredible milestones, working with thousands of rural healthcare clinicians across Montana, reducing error, improving outcomes and saving lives.
To celebrate this "big-2" milestone, we want to share with you just a few of the awesome things SIM-MT has done so far. This is not just about us, however. All of this could not have happened without the tireless passion and dedication of our rural Healthcare Communities across Montana working to ever-improve the safety and care of their community healthcare. Thank you all for everything you do!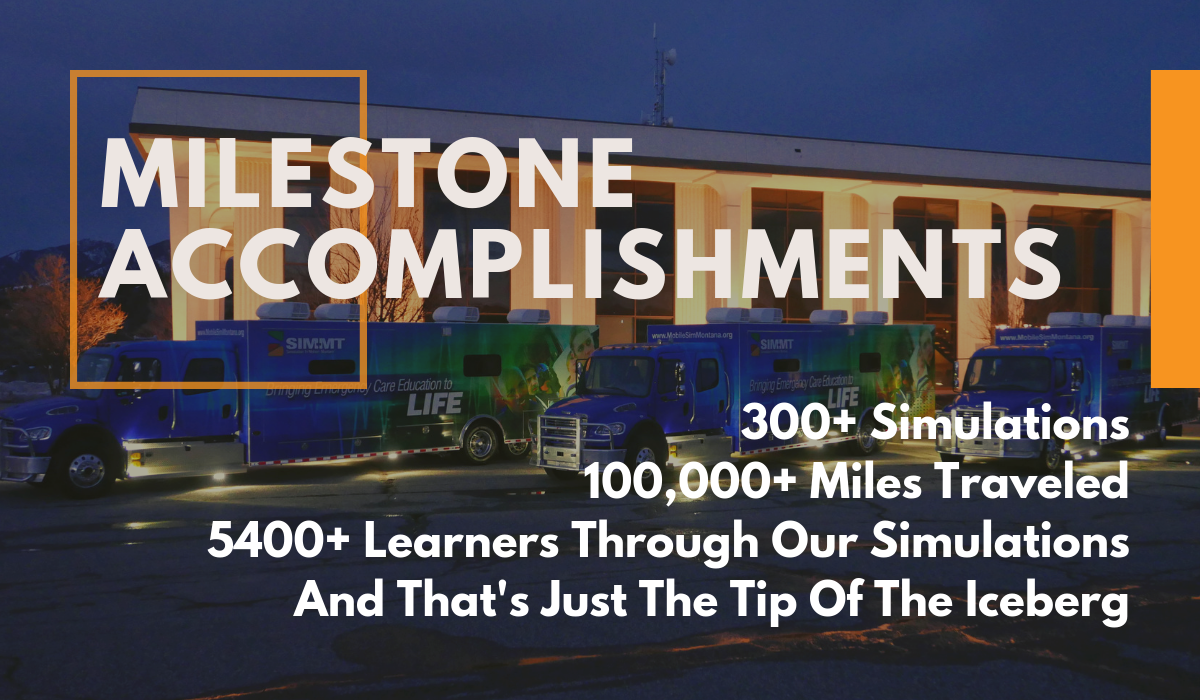 In late May of this year we were thrilled to announce a new achievement in healthcare simulation accreditation. After an extensive review, the Society for Simulation in Healthcare and the Council for Accreditation of Healthcare Simulation Programs granted SIM-MT provisional accreditation, making them an official Accredited Simulation Program. The Society for Simulation in Healthcare (SSH) is the internationally recognized accrediting body of simulation in healthcare. This esteemed recognition makes SIM-MT the first and only SSH Accredited mobile simulation program in the world! As an Accredited Simulation Program, SIM-MT now stands alongside prestigious brick and mortar simulation programs as: Yale School of Medicine, The Mayo Clinic, Harvard Medical School, Dartmouth-Hitchcock, Duke University School of Nursing, and The John Hopkins School of Medicine. (To read the full press release, click here).
In just two years we've recruited a core team with 221 years of clinical experience and 75 years of clinical education experience. This passionate team has accomplished amazing things in this short time, traveling to every nook and cranny across Montana to serve the distinct and unique needs of our State's rural Healthcare Communities. Here's just a few of things they've done:
Presented on Mobile Simulation at the International Meeting of Simulationists in Healthcare (IMSH) in Las Angeles, California.
Multi-day simulation academy run by Fellow in Simulation, Simulation Medical Director MD.
Had the unique and distinct honor to run a week long simulation to train the Montana National Guard Medevac unit in Helena, MT. (See the video here!)
Entered into annual simulation support contracts with multiple critical access hospitals.
With ongoing internal training and evaluations we constantly review and improve our simulations to continually achieve the most effective outcomes for our learners. This commitment to excellence has made all the difference, as we over and over again receive high praises and gratitude from the organizations and clinicians we serve.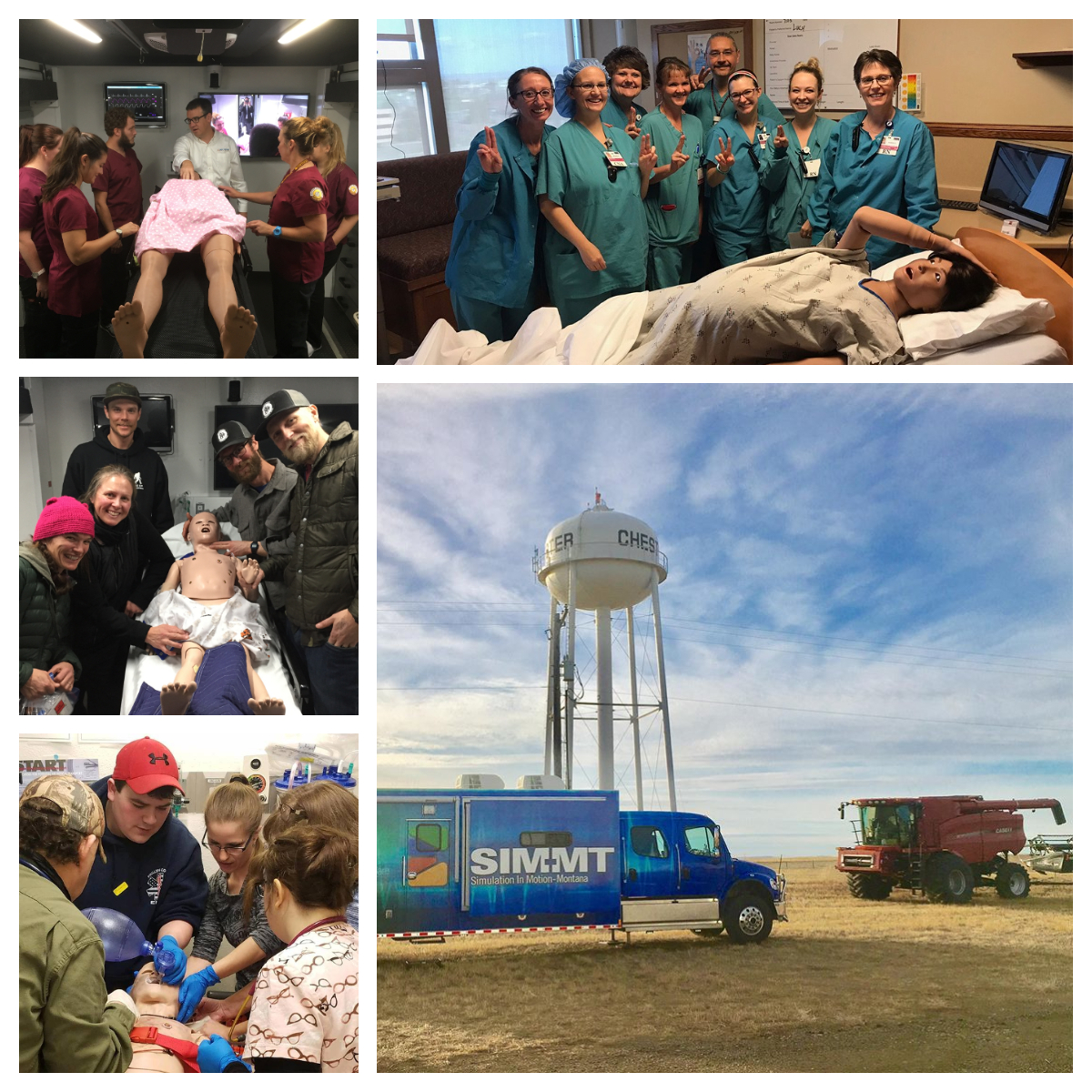 Two Years Is Just The Beginning
Two years is indeed just the beginning. There are big and exciting new developments in the works, and we are truly just getting started. In the first two years of operation it has been an honor and privilege to serve Montana's healthcare communities with meaningful, actionable, accessible, and affordable simulation based education. How can we help you and your team today? Contact us today to get started.
More about Simulation in Motion Montana
Simulation in Motion Montana, Inc. is a volunteer run non-profit established in 2017. It's purpose and mission is to provide and facilitate educational and other workforce related activities that support increased educational opportunities and health care provider competence. Initial startup funding for the mobile simulation program was generously provided by the Helmsley Charitable Trust. Starting in 2017, with the launch of Simulation in Motion Montana, Best Practice Medicine has been the Project Management Entity and Program Partner working in a public private partnership with the organization.
Get In Touch with Simulation in Motion Montana
Learn more at SIM-MT's website, https://www.mobilesimmontana.org/, or contact us today to request a simulation for your team or organization. We look forward to working with you soon!